Introduction
Fast and reliable Internet has changed the way we live. Not only does it allow us to maintain contact with our loves ones near and far but it has made our lives easier by giving us limitless access to information and applications. Are you looking for a reliable Internet Provider that will allow you all these benefits without worrying about speed or price? You have come to the right place!
But wait, what exactly is our judging criteria? We have tried to be impartial with our reviews of these brands, and we have to take the most important criteria into account to give as much of a reliable review as possible.
This is why we are taking a three-pronged approach. We believe in affordability, reliability, and availability. Further, we are focusing on Internet Service Providers that can deliver speeds to easily support simultaneous use by a family of 2 to 3 individuals.
We believe that anything less than a speed of 30 Mbps down is off the list because we don't want you to suffer from a laggy Netflix (or Disney Plus) on a weeknight or the weekend when you're desperately trying to relax. With this speed, you can support multiple devices and enjoy seamless browsing, streaming, and online gaming without buffering. It's a budget-friendly and affordable option that helps you stay connected for work and entertainment.
The final item we will mention is that we are not fans of aggressive introductory offers – you know those offers where it's heavily discounted at the start and then in a few months, the prices dramatically increase. Take Rogers Internet, one of the companies featured on this list, which is currently offering Ignite Internet for $59.99/mo on a 2-year term, then the price jumps to $89.99 thereafter (subject to increase).
So, in the space of 2 years, the price will jump by at least 50% and if you have multiple services on a similar term, that can be quite the hit to your budget. We debated whether to include these Internet Service Providers in our review but ultimately, decided that an informed customer is a wiser customer.
So, without further ado, here is a list of the top 5 best, reliable and most affordable Internet providers in Ontario for under $50 per month.

NetJOI
When finding an Internet service provider in Ontario that checks all the right boxes of flexibility and affordability, look no further than NetJOI.
As one of Ontario's most popular and affordable Internet Service Providers, it offers high-speed Internet that allows you to seamlessly work from home without hiccups. Its basic package is the most popular. For $51 a month, you can have unlimited Internet, download speeds of up to 50 Mbps, and upload speed of up to 5 Mbps. It's affordable and reliable, and even gives you a 15% discount on your first order! So, you would be paying ~$44 for the first month of service.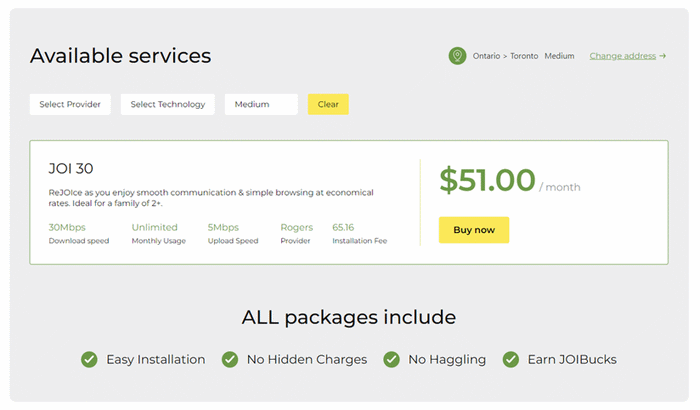 But that's not all – NetJOI offers bundled services through JOIBucks, which includes phone plans that can help you save some extra cash. Each month that you pay your bill, you get 3.5% back in the form of JOIBucks, which can be redeemed for discounts on your subscription fee or additional products and services. Who doesn't love a good deal, right? After all, we are looking to save money.
What really sets NetJOI apart is its accessibility – no credit checks or contracts are required. Instead, customers can use the services month-to-month without any long-term commitment. This makes it an ideal choice for those who value flexibility and freedom.

Teksavvy
Second on our list of most affordable Internet Providers in Ontario for under $50 per month right behind NetJOI is Teksavvy! Its Cable 30 Unlimited Package which delivers 30Mbps of downstream speed and 5 Mbps upstream is for $30.95 for the first 12 months, which increases to $62.95 thereafter (an almost 103% increase). While this may seem to be a good deal initially in the first year, a customer will be paying almost $755 yearly for this Internet versus $612 for NetJOI. This is a major downside, but Teksavvy has some unique services.
Teksavvy comes close to NetJOI but does not quite hit the mark. Afraid of long-term commitment? Don't worry, TekSavvy doesn't tie its customers down. This means you can make changes or cancel services anytime without getting hit with nasty fees or penalties.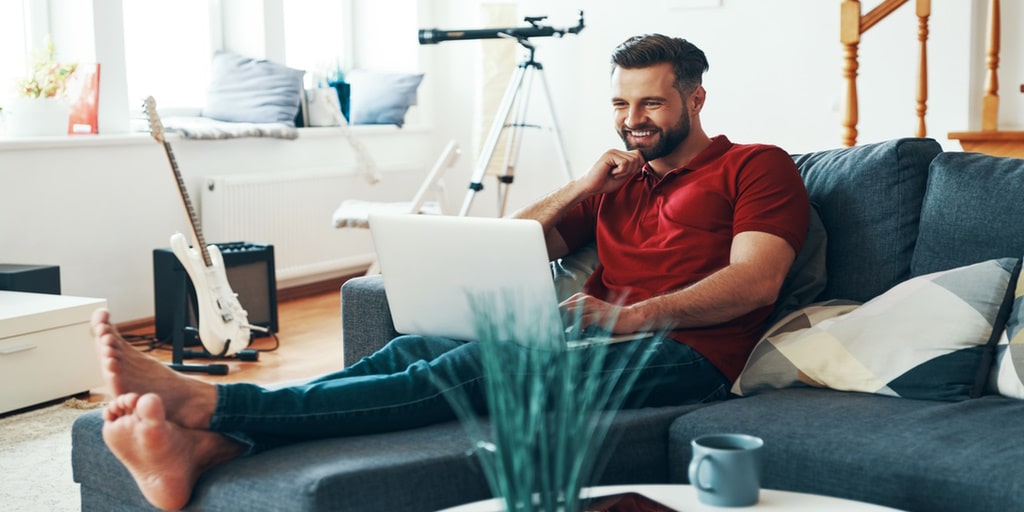 Bell Canada
Bell Canada is undeniably a key player in the telecommunications industry and also, Canada's largest telecommunication provider. Not only does their reputation precede them in terms of delivering a solid Internet experience, but they also have a variety of Internet packages targeting light, medium and heavy Internet users.
However, Bell's pricing can be higher than other providers on this list, and their customer service can be a bit of a rollercoaster ride. Many customers have complained about notoriously long wait times and difficulty resolving issues with their service. With their cheapest bundle of 25 Mbps priced at $60/mo for two years, increasing to $90/mo thereafter, they only come close to the combination of reliability and speed, but not affordability that we are looking for.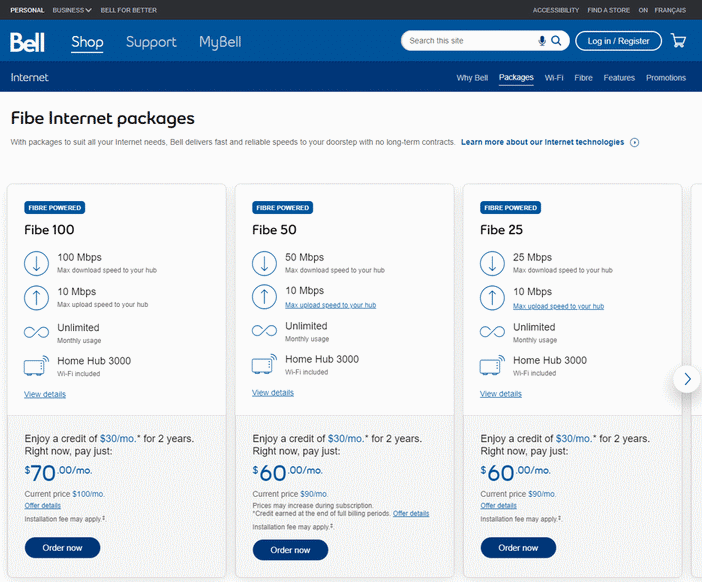 Bell Internet also offers a package of 10 Mbps down, less than 1 Mbps up with a 100 GB data cap (not unlimited) but even this product is priced at $55/mo, which may be an attractive option for a very limited set of customers.
While Bell's fast and reliable Internet may be a plus, its high prices and poor customer service can be a turn-off.

Rogers
Rogers is one of the top communications company within Canada, and with the recent acquisition of Shaw, it now provides Internet and other services to almost every corner of our country. Rogers is known for its reliability, systemwide outages aside, providing customers with a consistent and dependable Internet connection. Rogers has a broad coverage area throughout Canada, ensuring that a large number of residents and businesses can access their services.
In Ontario, Rogers offers Ignite Internet of 50 Mbps down, 10 Mbps up with unlimited usage for $59.99 on a 24-month contract ($89.99/mo thereafter, a 50% increase). The closest package we could find on Rogers website less than $50/mo is Internet 10 with 10 Mbps down, 1 Mbps up and 100 GB of usage (not unlimited) for $49.99/mo.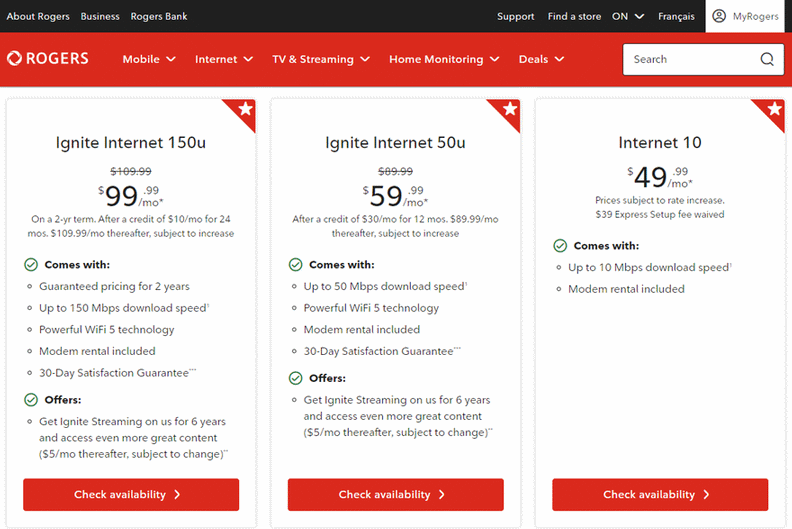 While Rogers scores high on reliability, accessibility and price are major concerns. Gone are the days when customers have to agree to contracts including early termination fees to access Internet service. There are many better options that are more accessible, including NetJOI if we are allowed to toot our horns for a bit. Another challenge with Rogers Is that customers have reported mixed experiences with their customer service, including long wait times or difficulties in resolving technical or billing problems.
Cogeco
Cogeco provides Internet, phone, and cable services to customers in select regions of Ontario and Qubec. Cogeco's strong network allows them to offer their customers fast and reliable Internet speeds. Presently, Cogeco is offering their UltraFibre 60 Unlimited with 60 Mbps down for $64.99 (regular price of $78.49, an increase of 21%). We were unable to locate another Cogeco Internet package that costs less than $50 that would satisfy our requirements.
Cogeco has a good reputation for customer service, with many customers reporting positive experiences when dealing with the company. One of the biggest drawbacks of choosing Cogeco as your Internet provider is that their service is only available in certain regions, which can be a problem for customers who live outside these areas. They also have a reputation for requiring long-term contracts, which may not be ideal for customers who prefer a more flexible arrangement.
If you're fortunate enough to be in one of Cogeco's serviced regions, their fast speeds, competitive pricing, and positive customer experiences make them a strong contender. Remember to carefully consider the regional availability and contract terms to ensure they align with your needs.
Conclusion
Choosing an Internet service provider in Ontario is no easy task. Each provider discussed in this article has strengths and weaknesses, from flexibility to affordability. The only service that fulfills our three-pronged approach to find the most affordable Internet Providers in Ontario for under $50 per month is NetJOI! They're affordable, reliable, and offer a great package for a small family or individual for less than $50!
| Internet Service Provider | Pros | Cons | Our verdict |
| --- | --- | --- | --- |
| NetJOI | High-speed Internet, bundled services with phone plans, month-to-month basis, affordable pricing | Package, without initial order discount, is slightly above $50. | 🥳🤩 |
| TekSavvy | Affordability, flexibility, unlimited usage plans | Speeds may not be as fast as competitors; introductory price is less than $50 but quickly increases by 50% | 🙁 |
| Bell Canada | Fast and reliable Internet, variety of Internet packages including unlimited usage plans | Expensive pricing, poor customer service | 😭😡 |
| Rogers | High-quality, fast, and reliable Internet, variety of Internet plans. | May require long-term contracts, very expensive, poor customer service | 😭😡 |
| Cogeco | Fast and reliable Internet, competitive pricing, good customer service | Limited availability outside of select regions, requiring long-term contracts, potential issues with billing practices and customer service | 😓 |